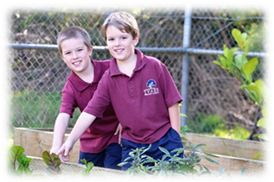 Tyabb Primary School has a strong commitment to Environmental Education and the learning of lifelong sustainable practices. We recognise Sustainability as a cross curriculum priority of the Victorian Curriculum and incorporate the teaching of this through all Learning Areas and an Inquiry Learning Approach. This is enhanced further through a whole school, two-week sustainability unit with each year level focusing on a particular environmental issue – learning about the issue, the impact to the environment, exploring solutions and taking action. They share their learning with other students and members of the community with the aim to encourage community wide sustainable practices. Students learn that even small changes can make a big difference. They develop the knowledge, skills, values and world views necessary to act in ways that contribute to more sustainable patterns of living.
Our school is situated on the Mornington Peninsula surrounded by the natural beauty of the Oliver's Creek Reserve. We help students to connect with the natural world around them and build an understanding of the importance of these natural resources through studies of our local bushland reserve and environments in our local areas, across Australia and around the world. They grow vegetables in our environment centre and harvest their produce to use in cooking activities. All classes are rostered on to 'School Pride Duty', a time to walk the school grounds, tidy areas, do some gardening and show pride in our fabulous school. By building this pride and an appreciation for the environment and the importance of this to living things, we aim to instil a passion and motivation to protect our valuable resources for present and future generations.
As a school, we embed sustainability into the curriculum and all aspects of our planning, implementation and school practices. We have a Green Team with members from each year level who meet to discuss environmental issues both at school and across the world and discuss ways that we can protect our environment, improve our practices and reduce the use of valuable resources. They build their own knowledge and present to their class and at assemblies to encourage their peers and the wider community to care for the environment and reduce, reuse, recycle and rethink. They initiate events and activities throughout the year to educate and encourage us all to be resource smart and sustainable. Further actions to reduce, reuse and recycle include:
Installation of a small number of solar panels
Installation of LED lighting throughout the school
Installation of water tanks to service toilets throughout the school and water gardens
Whole school recycling program
Canteen that considers recyclable packaging
Composting across the school
Environment centre and garden club
Celebrating World Environment Day
Walk to School Day
'No Bins Outside' policy encouraging students to being wrapper free 'nude food'.