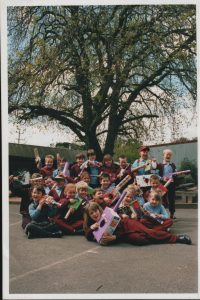 The word Tyabb is an aboriginal word which was applied to the many swamps and lagoons in the district which was known as the Land of Waterholes. The name Tyabb first appeared in the journals of William Thomas who was the Protector of Aborigines for the Westernport area. While making a journey with aborigines in 1840 he recorded stopping at the Tyep Waterhole. The original landholder of the area Mrs Martha King in her application for a land lease also refers to a small lagoon known as Tiab Waterhole. Tyabb was originally part of a large cattle station of 15 000 acres called Bunguyah.
As years passed Tyabb was the name given to a locality a mile north of Hastings. This township was gazetted in February 1861 but it was not until 1889 when train stations were located along the new railway line that the name Tyabb applied to a settlement. This is now referred to as Old Tyabb which has become part of Hastings. At this time there was no town called Tyabb in the position it is today. Most of the population lived on farms throughout the area.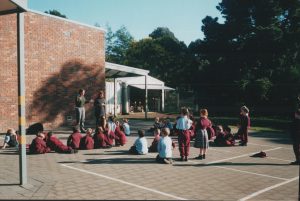 Farmers then wanted to have a school in this area. Mr Baxter a local land owner offered to build a school on his land on the south east corner of Boes Road and Mornington Road if the Education Department would supply a teacher.
Mr Charles Unthank also wrote a letter on behalf of the Hill, Baxter, McIntosh Ashman and Benton families representing 17 children requesting a school be established in either Moorooduc, Somerville or Hastings. An agreement was then made between Mr Baxter and the Education Department and a school was erected on the corner diagonally opposite to its present location. This school shown in the photograph attached was only 18 feet by 12 feet with a fire place. The Department then supplied a teacher and the school was officially opened at 11.30am on Monday 6th July 1891.
School Timeline
1891 – Tyabb Primary School opened with an enrolment of 17 students.
1892 – Enrolment of 21 students increasing to 43.
The Education Department recommended moving the site to its current location and reserved 2 acres for this.
1893 –  Contract set to relocate the school to the new location.
1894 – 3 acres reserved for the new school.
1895 – The oak tree was planted. Enrolment of 55 students.
1898 – Enrolment of 56 increasing to 72 students. 7 children excluded from  school due to overcrowding.
1903  – Building extended 12 feet to cater for growing numbers.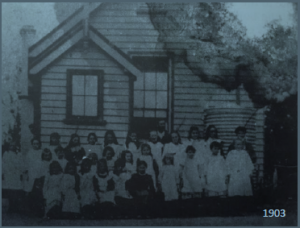 1907 – Due to increased numbers a Junior School was established at the Tyabb Public Hall as an adjunct to 3129.
This was the beginning of Tyabb  Railway Primary School.
1913 – First pupils admitted to Tyabb Railway State School.
1917 – Tyabb Primary School closed as an economy measure due to WW1.
1921  – After many protests Tyabb Primary School was reopened on a trial basis.
1929 – Approximately 36 children at the school.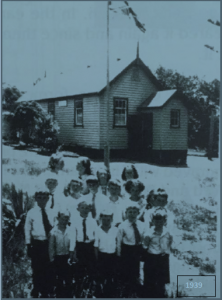 1959  – A brand new school building was opened.
The old school building was  moved to Mornington Baptist Church where it stood until demolition in  1980.
1963 – The Education department wanted to close the school due to a low  number of only 9 students.
The School Council and parent group  managed to stall this due to potential future subdivisions.
1966  – Telephone installed.
1968  – Playground area asphalted.
1970 – A new classroom ordered. Enrolments at 31 students.
1972 – School Council request a further 5 acres of Crown land to the west of the  school for future development.
This was granted in 1975 and the area became our current oval.
1973 – Request for a further classroom due to the school becoming overcrowded with 37 students.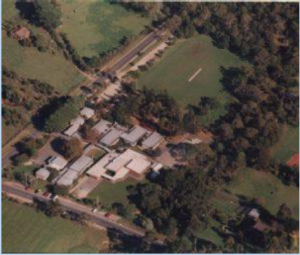 1978 – Enrolments reached 91 students and the school was provided with a new toilet block and additional classrooms.
1978  – Oak Tree became our official school emblem.
1979 – Enrolments reach 124 with further portables provided.
1984 – Enrolments reach 226 students and a new art/ craft and library complex  were built.
1985 – Additional classroom module added.
1986 – Administration block built with offices, sick bay and staffroom.
1991 – Enrolments at 233 students.
The school's facilities have grown over the past few years with many relocatable portables replaced by 8 new classrooms and an office/admin area in the year 2000. In 2009 the National Schools Pride funding was used to build a new stage/music area in the hall. As a part of the recent Building the Education Revolution (BER) program the school has managed to replace further old portables with 6 new classrooms and open learning areas for our year 5 and 6 students. With the completion of this building works the priority has been on the redevelopment of our grounds with the building of a deck around our oak tree and the installation of new playground equipment.